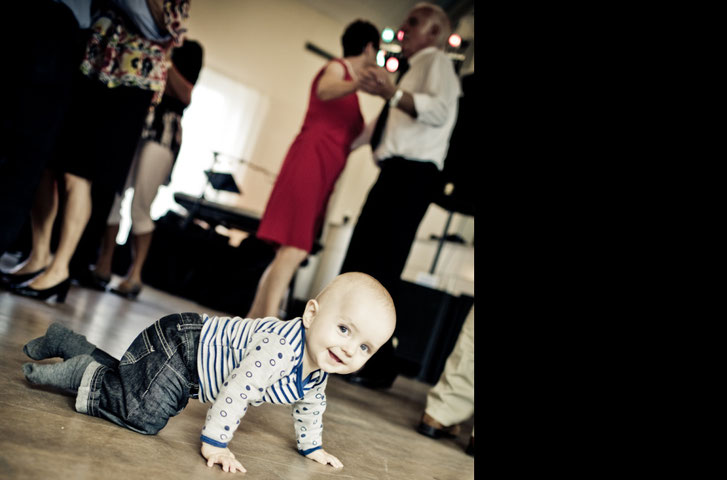 This article proposes a core strategy for those wanting to promote a more beautiful culture of relations between men and women, to achieve the same goals as Man+Woman.
A Communal Strategy
"Man+Woman" covers such a range of matters it might be hard to grasp the central point. It might be easier to illustrate by describing a kind of association that would try to implement the ideas advocated here.
Imagine a local community, say a suburb in a city, or perhaps a group of suburbs, in any case, big enough to gather enough interested people but small enough that they can practically gather together regularly.
A community club is established whose motto would be "for a more beautiful culture of relations between men and women". Let us call it the "St Valentine's Club". It would have within it a women's branch and a men's branch as well as various other necessary structures. In any case there need to be two strong 'branches', so that men and women each have leadership roles and responsibilities and a special concern and responsibility for the members of their own sex. It would also have joint committees for different age groups.
The club would have interests covering all ages and including a variety of activities and purposes. Its two broad purposes are celebration and formation.
Purposes
Its first purpose is to celebrate the distinctive gifts of femininity and masculinity. It seeks to foster a culture of celebration. It does this through participative dances; performances of dance, plays, skits, poetry, music; beauty pageants; dinners for couples; debutante balls; various kinds of parties; and so on.
Its second and closely related purpose is the personal formation of boys and girls, men and women, to understand themselves and each other better, and to develop the attitudes, dispositions, knowledge and skills conducive to richer relations between the sexes.
Programs
It also has programs for children, though this is not its major focus:
The programs at this age try to ensure that both boys and girls have a level of familiarity and comfort with dance, of different types appealing to each sex.
In later childhood it would be good to also have periodic programs for mother-daughter and father-son bonding.
It has programs for adolescents, such as:
Youth club type activities for early teens, including games
'Reimagined' beauty pageants for girls in early to mid teens (includes a crucial role for boys, and fathers)
A regular program of dances of different styles
Periodic performances of plays on themes relevant to relations between the sexes
A 'poetry club/theatre club' for older teens and young adults
A coffee shop with unstructured time, music etc, but also with structured periods of 'speed dating' done in fun ways.
Organised 'dating' type activities for older teens and young adults
Intentionally organised and run parties, activities and outings for youth
Periodic talks, workshops and formational programs on relevant topics; e.g. for girls in early to mid adolescence, a 'beauty course' to help them develop confidence and good self image and how to dress and present themselves well; for boys and girls, separate courses on life issues affecting them at this time, about sexuality, understanding the other sex, building and maintaining friendships.
A youth leadership program which trains young people to become intentional leaders in fostering a distinctively communal character in dances and parties.
A youth formation program accompanying all these activities, in which small groups of youth meet with a mentor of the same sex who helps them understand what they are doing, what they are feeling, and to feel support from others in the growing process
In a Christian setting the formation program would include the Christian perspective
It has programs for young adults, such as:
Those already mentioned for younger ages, but adapted to young adults
Dance classes of various kinds, not just for couples' type dancing, but for choreographed group dancing
Classes specifically for young women for dance, fitness and movement, developing self confidence and camaraderie
Romance classes for young men, to help them understand women, and how to be more confident and knowledgeable about their own role
'Understanding the other sex' courses, as remote preparation for marriage, and to assist in dating
It has programs for engaged and married couples, such as:
Couples' dinners, especially on St Valentine's Day
Pre-marriage and early marriage programs.
Regular couples' dinners, parties or similar, with couples providing the during and after dinner entertainment in the form of performing poems and skits.
Dances specifically for couples. Intentionally programmed to ensure a variety of kinds of interaction, indirectly helping couples to keep learning about each other.
Periodic performance of plays performed by some of the couples.
Older couple mentors for younger couples.
What about for single adults?
For those who believe they are not called to marriage, they should be welcome as full members of the club, and participate in its activities, and to add their own gifts to the mix. In a Catholic setting it would be great to encourage priests, and religious brothers and sisters to participate in any ways they can.
Other Possibilities
For those still looking for a partner, but older, or divorced, some special care needs to be taken to include and encourage them in suitable ways.
For those still in the broad 'marriage market' there is scope for 'singles events', 'dating' events, 'matchmaking' services of some suitable kind, and if possible, cooperation with similar clubs in other suburbs, and even other towns and cities. There can be things like 'Bachelors and Spinsters Balls', but preferably with less alcohol! For singles it is more important to establish links wider than the local area, for the local scene on its own could get a bit tired and awkward.
In a Catholic setting it would be most helpful if some opportunities are provided for a 'spirituality for singles', not necessarily by that name, but with the aim of helping them cope with possible feelings of rejection and loneliness, sexual frustration, and temptations to loss of faith and hope.
In amongst all the other activities of the club it might be possible to also have an informal kind of counselling or mentoring service for those who feel the need for it.
For all adult members it has a higher level educational process to teach everyone, but leaders especially, the whole body of thought that lies behind all this.
The elderly need to be included in suitable ways. There is a special place for celebrating long marriages, with regular 50th and 60th anniversary celebrations. Ways need to be developed to affirm the ongoing significance of marriage for those whose spouses have died. They remain alive to them in many ways. Younger couples could benefit a lot from seeing the witness of older couples, giving them hope, and perspective.
The club as exemplar, resource and promoter
Once such a club existed, it would not necessarily need to do all these things itself. It could also draw on other organisations, such as Centacare. Where there are already separate organisations or arrangements for things, e.g. debutante balls, they would not compete but cooperate. It could also act as a consultant, trainer and assistant to schools in organising their own programs of this type. Or the club could come in and run the activities in the school, and have members drawn from the school.
It is important that the club be a genuine community association and not become professionalised. Also that it not get sidetracked into running or taking over dance schools of the type that already exist for their own purposes. The St Valentine's Club needs to keep its main focus on the development of a culture of celebration of femininity and masculinity. It would be better to stay comparatively small and keep that focus than lose its way and become a kind of professional club or business. It would be better to stay flexible and use other facilities than to get bogged down in building or owning its own premises. By keeping close links with parishes and schools and other community organisations it should be able to thrive with a minimum of financial burdens.
A Core Evangelising Strategy
The St Valentine's Club could become a lay movement in the church, and an important means of evangelisation, by transforming the culture towards a Christian vision, and being a point of welcome, enjoyment and support for young people, those seeking partners, and married couples. It would provide the larger integrating context for many constituent programs. Such programs would thereby gain strength. A network of such clubs would greatly strengthen the strategy.
The key in evangelisation is to work by attraction. Having a well developed body of thought to underpin the strategy would make possible the explicit integration of all this sort of thing with faith and spirituality. There would not be only a vague connection, but very clear and explicit connections amounting to a substantial intellectual synthesis. This would give the movement the confidence to know what it was doing and why and how to keep developing along that line.
Importantly, it is not a strategy of condemnations or prohibitions, but one of attraction and invitation. Since the club is not 'the church' it has more flexibility in finding ways to welcome and encourage those who have been divorced, or are living in irregular situations. It could be something of a mediating community, a buffer for those who are potentially attracted to the faith, but for the moment wrestling with unresolved issues.